Welcome to Lisa's Waxing For Men hair removal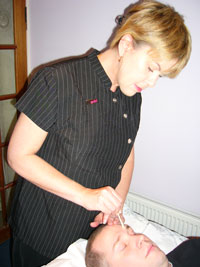 Men today want smooth bodies, it makes them feel younger and is far more hygienic.
Historically, a sign of masculinity, however in modern times body hair is becoming a nuisance for many men. For reasons of hygiene or aesthetics, male waxing is promoted on top of mens beauty lists.
I have over 10 years experience in hair removal and I am AXIOM certified. I will do my very best to make you feel as comfortable as possible in my home salon. My service is performed with care, respect and professionalism. Feel safe knowing I'm fully insured by the Guild of Beauty Therapists.
Disposable spatulas are never double dipped for Hot wax treatments, all other waxing equipment is sterilized with hospital grade disinfectant after each client. On entering our treatment room all clients are given hand sanitizer to ensure no germs are transferred to the just waxed areas.
We follow all Covid-19 precautions, ensuring the salon is clean and sanitised at all times.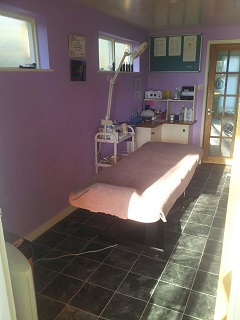 Benefits
There are benefits to waxing compared to other forms of hair removal. Waxing is a long-lasting method. Hair in waxed areas will not grow back for three to eight weeks; when the hair does grow back, it is soft and thin. When hair is shaved or removed by depilatory cream, the hair is removed at the surface rather than the root. Within a few days, the hair can be seen at the surface. With these methods, hair tends to grow back in a rough stubble. Areas that are repeatedly waxed over long periods of time often exhibit a thinning of regrowth, and regrowth that is thinner, softer, and lighter in color. The use of a hair inhibitor will also aid the slow re-growth of hair, used over a long period of time this can be used as an almost permanent method.
Drawbacks
Waxing can be painful if the poorly trained or unprofessional therapist pulls the waxing strip upward instead of across the skin. Poor pre-treatment procedures can also increase pain. If performed properly the pain from waxing is generally short-lived, and greatly helped by the immediate application pressure.
Waxing does have a larger headline price, however compared to following the manufacturer's advice for shaving or using depilatory creams waxing is cheaper than either of these methods between treatments. Shaving or creams will only last a few days whereas a waxing treatment can be performed up to 6 weeks apart.
Retail 'Do-It-Yourself' kits are available and work to an extent although a professional therapist will be able to perform the most complete treatment and offer the best advice on aftercare.
Keeping skin cool and clean, staying away from chlorinated swimming pools and away from the gym for the first couple of days, followed by gentle exfoliation twice a week and subsequent application of a light non-greasy moisturiser will vastly reduce the possibilities of suffering from uncomfortable in-growing hairs.
After your treatment the skin may feel and look a little sore. If you are going on holiday it is best to be waxed at least a week before you go. Sweating may cause the hair follicles to become infected (Folliculitus), so you are advise to avoid the following:
exposing the skin to sunlight or sun beds for 48 hours
having a sauna or any heat treatment for 24 hours
taking a bath or shower for 24 hours
doing any exercise for 24 hours
applying any moisturisers or body lotions, other than those recommended by your therapist for 24 hours